News articles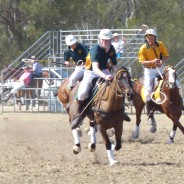 A massive congratulations to club Junior members, Hugh Anderson and Jess Ward for their success at the Rosebowl competition in Warwick QLD last weekend… Hugh played in the PAA Green team. He won 'Man of the Match' in the PAA Green v QLD game on Saturday in a really fast and exciting game. Sunday saw PAA GOLD defeat GREEN 22 – 18, after green crawled back from 20 – 11 going into the last chukka. Jess played in the NSW team beating QLD in the final on Sunday! Jess played number a #1 and #2. Well done to both these players… we are all very proud of you!...
read more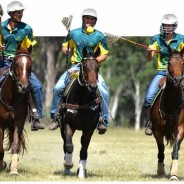 THE Grills trio from the Albury Holbrook Polocrosse Club are in Warwick to fine-tune their form for the 2015 World Cup in South Africa. They play their first game of the weekend with the Australian team at 5pm today at Morgan Park against an Australian development team. Talk about aiming to retain their places in the team for the 2019 World Cup at Morgan Park is music to the ears of siblings Lucy and Jim Grills, and first cousin Abbott Grills. But Abbott isn't getting carried away with hopes about 2019. "We have got to win the cup back first from South Africa and then defend it on home soil in four years' time," he said. "The South Africans will be tough in South Africa." Australia won the first two cups in Warwick in 2003 and 2007 before South Africa won in the United Kingdom in 2011. Jim Grills will turn 21 the night before the World Cup final this year in South Africa and vows to leave the celebrations until the following day. He will have 30 for starters for his 21st, the number of family members travelling to this year's World Cup. In the next four years, he will be aiming to make the team for a second World Cup at the same time as striving for an AFL contract. Currently he plays for Albury Tigers in the Ovens and Murray competition and hopes to get a chance in the top South Australian competition next season. He said the chance of injury crossed his mind in the cup run-up but that AFL helped his fitness. At age 22, Lucy will play in her first World Cup this year after debuting in open polocrosse for the Aussie women last year in Western Australia. Both Lucy and Jim won best player awards in two intermediate series for Australia against Ireland at Cunningham and Warwick grounds in 2013. She remembers watching Jane Cooper play for Australia in the 2003 World Cup in Warwick and now finds herself in a team captained by Cooper. "It is good to have some experienced players in the team," she said. Play in the Barastoc Interstate Series starts at 10am today with Shell Cup polocrosse tomorrow and Sunday.  Gerald Walsh – Warwick Daily News...
read more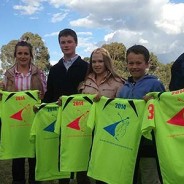 The Albury Holbrook Polocrosse Club Presentation night and AGM was held at the Flyfaire Winery in Woomagama on Saturday 1st of November. A great afternoon/evening was had by all, with a new committee selected, hard working club members acknowledged, and prizes won. Congratulations to our new office bearers: President: Liam Cardile Vice President: Jess Fletcher Secretary: Bec Cardile Assistant: Sally Dobinson Event Secretary: Elissa Koch Treasurer: Fiona Anderson Club Captain: Jeff Kyne Committee: Elissa Koch, Charlie Grills, Lucy Grills Selectors: Lucy Grills, Steve Dobinson, Jeff Kyne Club Grading Officer: Sara Grills Horse Welfare Officer: Vicki Wornes Jnr Development Officer: Lucy Grills Publicity Officers: Jess Fletcher & Lucy Grills Delegates to HEC: Libby Ward Delegates to AWEC: Elissa Koch PRESIDENTS REPORT 2014 Liam Cardile 1.11.14 Practices and preparations for the Junior classic were somewhat very casual this year. Well attended and low key which was a nice change in the lead up to our carnival. Barastock ran the weekend prior to Albury with Abbott wining overall horse rider on Waves and Lucy wining overall horse and rider on Halle in the u21 comp. The Albury Classic /Junior coaching saw 180 kids attend for the 2 days coaching clinic before 16 teams competed in the Junior classic. Albury had several representatives showing off the club talent. Montanna Ross was a member of the runner up NSW 1 team and she was successful winning Division 1 Best ASH and overall champion Female horse and rider on 'Magoo'. Emma Piltz Captained the NSW sub junior team and they went through undefeated with Emma also winning Best #1 and overall best Horse & Rider on 'Gem'. Hugh Anderson represented NSW in the Junior Mixed #3 team and Digby Anderson won his division as part of a Junior Pool Team. Jess Ward competed for NSW Junior Mixed team 4, she was successful in winning Best female #3 in the Junior Mixed Division 3. The club season was somewhat compressed due to the Nationals. Overall a good representation and results at all carnivals. We even had a couple of teams head out west for some fun in the sand at Pretty Pine. The trek to Darwin by all reports was epic, although I did not travel by truck, my 4 day visit was taxing enough on the liver!! Albury Holbrook had several representing. Emma was a part of the exhibition sub junior teams which was successfully undefeated for the week. Emma was a dominant player throughout the week Montanna Ross and the under 16 girls were unfortunately narrowly defeated by QLD in a great final. Montana was the utility player rarely playing the same position in consecutive chukkas. Johnny Ward was selected as a reserve for the Junior Boys but enjoyed the side line with no injuries for him to step in for. Charlie Grills playing for the NSW Mixed Masters were rarely troubled in their games and went on to comfortably defeat WA in the final. Elissa Koch after having lost both her main mares in Millie and Glide jumped onto Jess Fletecher's Jackie and never looked back with NSW Senior Mixed beating QLD in the final. Past local Trent Mortimour was...
read more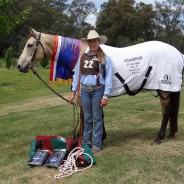 Congratulations to Johnny Ward placing 2nd in the Tumba challenge  on Berragoon Twist (which was run by the Tumba poloX club) and Jess Ward for winning the Striplings division of the Battle on the Bidgee.  Individually she won the bare back obstacle and time trial and got runner up in the obstacle time trial on Dolgwili Treat....
read more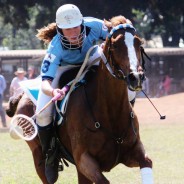 Lucy Grills at the 2014 Polocrosse Nationals held in Darwin in July. (Photo: Lauren Cant) Not only will the Albury Holbrook Polocrosse Club host the 2016 National Championships but four members of their club have been selected to play in South Africa for the World Cup. Last Wednesday the Polocrosse Association of Australia announced the 2015 Australian World Cup team. The competition will be held in South Africa next June and July in Pietersmaritzburg and Durban. Lucy Grills, Abbott Grills, Jim Grills,and Troy Henry were all selected for the team with Abbott named vice-captain and Troy named coach. "It was a huge shock but a good shock. I am very proud to be selected," Lucy said. Lucy and Jim have just returned from playing in Western Australia. Lucy played in the Australian team against New Zealand and was named 'Player of the Series' and Jim played for a WA team and was named 'Champion Mixed Player' of the tournament. The last Polocrosse World Cup (PWC) was played in the UK in 2011 and South Africa currently hold the title. Before heading to South Africa the team will train at the Australian Institute of Sport in Canberra for a week and attend practice weekends. They won't take their own horses to South Africa next year – four days before the first game they will be given a team of 12 horses to use between the eight riders. During the PWC, games will be played against New Zealand, Zambia, Zimbabwe, USA, Ireland, UK and South Africa. Eastern Riverina Chronicle Oct 29 2014...
read more
IT would be fair to say the Grills family of Holbrook were instrumental in helping NSW on their way to claiming eight of the nine finals titles at the Australian Polocrosse Championships in Darwin. Eight members of the Albury/Holbrook Polocrosse Club were chosen to represent their state at the event, which is the biggest fixture on the Australian polocrosse calendar. Abbott Grills helped lead the senior men's team to victory but also was awarded best horse and rider combination, best stockhorse (on Berragoon Percussion) and champion overall male player. He won two saddles and selection in the Australian Men's squad for the World Cup in South Africa next year. Not to be outdone cousin Lucy Grills shone for the under-21 women's team and her mount Berragoon Ravers also had his name up in lights with a championship stockhorse title. Lucy also earnt selection on the shortlist for the Australian women's team for South Africa. Dad Charlie Grills was part of the winning masters team and son Jim Grills was in the runner-up team in the under-21 men's. Other members of the Albury/Holbrook Polocrosse Club also were outstanding in their teams with Elissa Koch part of the victorious senior mixed team; Troy Henry (senior men's); Montana Ross in the under-16 girls who came runners-up; Emma Piltz in the winning under-12 side; and Matt Davison who represented Queensland in the winning under-21 men's division. With 14 horses travelling on two trucks as well as a convoy of five to six other support vehicles, it was a huge challenge to get the horses to the Northern Territory in peak condition. Mrs Koch, who is also the practice manager at the Hume Equine Centre, said the horses survived the trip well, with some even returning home carrying more weight than when they left. She said organisers had provided amazing facilities including setting up huge industrial fans at the end of the fields to allow the horses — and riders! — to cool down quickly between chukkas. Mrs Koch also said Dr Seamus McKillop, from Holbrook Veterinary Surgery, had been "instrumental" in getting the horses through the gruelling trip up and back and the rigours of competition unscathed. The two-legged athletes were well-attended to with Emma Piltz's grandfather Peter Wornes acting as the team masseur. The Border Mail JODIE O'SULLIVAN.Sept. 6, 2014...
read more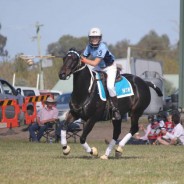 During the last week of the school holidays, Johnny (Year 9) and Jess Ward (7) competed in the Australian Polocrosse Junior Classic for NSW, which was held at the Albury Equestrian Centre. The state teams have two divisions – under 12 and under 16 – and they compete against Northern Territory, South Australia, Tasmaina, Queensland, Victoria, Western Australia and New Zealand. Being 12, Jess Ward was the youngest to be selected in the under 16 competition to represent NSW. The team was very competitive until Jess's horse was injured in a game. Her brother Johnny very kindly offered up his horse for the final, and they went down by only two goals to Northern Territory. Jess was awarded best number 3 female player for the competition, and her horse is now recovering very well at home. Jess is pictured in action, right. The Scots School Albury Monday, May 12th, 2014 http://www.scotsalbury.nsw.edu.au/news/2014/05/12/jess-rides-high-brothers-horse...
read more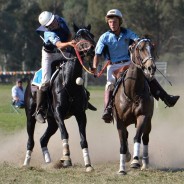 Rhys Mortimer from Cobargo is taking a bounce while Jock Grills from Guyra is laying a hit in the final of the Australian junior classic. Around 70 teams travelled to the Albury-Wodonga equestrian centre to compete in the Albury Holbrook polocrosse carnival last weekend. There were 11 teams in the Junior Classic (under 16 years) including four New South Wales teams, two Victorian teams, two Queensland teams, a team from West Australia, Northern Territory and New Zealand. The sub junior classic is a competition for under 12 years and there were four teams in that competition from NSW, VIC and QLD. Some of the young players parents also competed over the weekend in the the club tournament with Jugiong winning the mens A grade competition. Before the competition the club hosted a two day training clinic on Wednesday and Thursday with 165 attending, 52 of these being under 12 years old. Twenty one polocrosse coaches from New South Wales, West Australia, Victoria, Queensland and New Zealand trained the kids over the two days. Horsemanship coaches Scott Keogh from Qld and Paul Spears and Deb Wilson both from NSW also trained the kids over the two days along with personal trainer Margot Pitzen from Holbrook who took the physical fitness sessions. President of the Albury Holbrook Polocrosse club Liam Cardile was pleased with the weekend. "It was a successful weekend; the kids enjoyed the clinic which ran just before the carnival," Mr Cardile said.  Eastern Riverina Chronicle – May 7 2014...
read more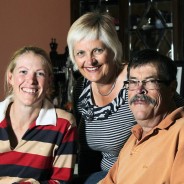 The Albury Holbrook Polocrosse Club's newest life members Tim and Helen Grills with daughter Bec Cardile. TIM and Helen Grills have finally been made life members of the Albury-Holbrook Polocrosse Club but it took some doing according to club secretary, and their daughter, Bec Cardile. "We have had it planned for some time, before Christmas in fact, and we wanted the presentation to coincide with a major event," Mrs Cardile said. "But Dad has had some major health issues in recent years and it was difficult for him to get to some events. "Even this time we thought he might not get there, because he had only got out of hospital four days before. "But he did and the formal presentation to Mum and Dad was made by former president Gordon Shaw." Mrs Cardile said it was an emotional moment, and not just for the family. "I wish my sisters Kate, Gabby and Sarah had have been able to be there, but it just was not possible," she said. "We had the ceremony at the beginning of the presentations on Sunday for the junior championships and the NSW Club Championships, at the Albury-Wodonga Equestrian Centre. "Dad had to sit in his car but he could see everyone and most people in the crowd of about 500 could see him acknowledge the award; although he was unable to speak. "Dad is well-known in polocrosse circles right across Australia and many people were aware of his challenges. "You could have heard a pin drop, it was amazing." It was both an emotional and surprising experience for Mrs Grills, who had been asked to get her husband to the centre for the presentation, without him twigging to what was happening. "I had no idea, it has made me very proud," she said. "I don't ride myself but I enjoy going along and watching the sport, seeing other kids come through and helping out and supporting the club — which we've been around for about 26 years — whenever I have been able to. "You don't do it for the recognition but it is always nice when it does happen. "My children have done well in the sport, including Gabby having been part of the Australian junior team and Sarah making the state team. "And the sport has been very good in keeping in touch with our extended family, many of who are also involved in the sport." Mr Grills said the award was definitely a surprise for him. "It certainly wasn't on top of my priority list at the time," he said. "But it was a very emotional moment and a very proud one to be recognised for something I had worked hard at; the polocrosse club has been my "other life". "I take great pride in my part in developing the polocrosse facilities at the equestrian centre." Mr Grills, better known as "Griller" in most circles, agreed with his wife that polocrosse had been terrific for their family. "We've travelled around Australia, following the sport," he said. "And there is no better way to teach a child responsibility than to put them in charge of a living animal. "In any sporting club there are those who do and those who don't. "So to see Bec step up and take over...
read more
MONTANA Ross and Emma Piltz are ready to be tested by the best in the business. The promising Albury-Holbrook Polocrosse Club youngsters will play for NSW at the Australian Junior Classic in Albury from April 25 to 27. Montana, 16, will compete in the juniors while Emma, 12, will take part in the under-12s. The pair will then start preparing for the Australian Polocrosse Nationals in Darwin from July 7 to 13, a trip which will also be made by fellow Albury-Holbrook players Elissa Koch, Lucy, Jim, Charlie and Abbott Grills and Troy Henry. The Border Mail By BRETT KOHLHAGEN – March 6 2014 http://www.bordermail.com.au/story/2131863/sky-blue-honour-for-young-talents/ Montana Ross and Emma Piltz, with Gem, have been chosen to play for NSW in the Australian Junior Polocrosse Classic. Picture: PETER MERKESTEYN ...
read more